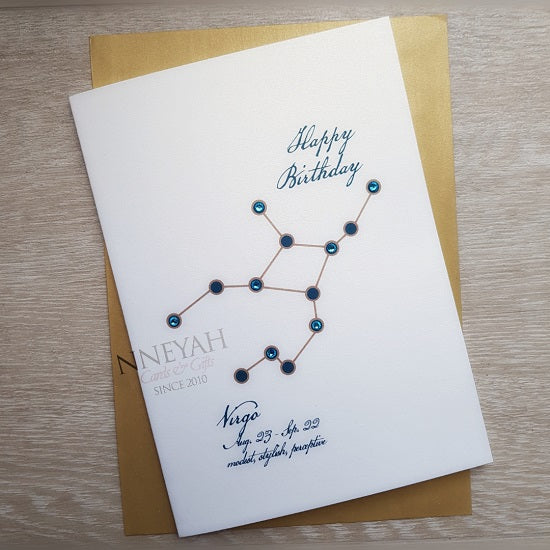 Zodiac Stars
Order by 11am for Next Day delivery*
---
Zodiac Stars. Card size 6"x8"
Choose their star sign and have a personalized card featuring their constellation and traits.*  No need to look at the night sky when you have the stars in your hand.
Details: Aries (Mar.21-Apr.19) honest, spontaneous, kind-hearted.• Aquarius (Jan.20-Feb.18) innovative, progressive, assertive • Cancer (Jun.21-Jul.22) loyal, enigmatic, charming • Capricorn (Dec.22-Jan.19) intuitive, determined, sincere • Gemini (May21-Jun.20) charming, curious, perceptive • Leo (Jul.23-Aug.22) lovable, exciting, confident • Libra (Sep.23-Oct.22) diplomatic, smart, artistic • Pisces (Feb.19-Mar.20) creative, intuitive, sincere • Sagittarius (Nov.22-Dec.21) independent, honest, open • Scorpio (Oct.23-Nov.22) passionate, loyal, determined • Taurus (Apr.20-May20) resilient, organized, artistic • Virgo (Aug.23-Sep.22) modest, stylish, perceptive
 *These are for amusement purposes only and not declaration of facts.
---
Available Monday - Friday
 Pick up (2+ Days), Mon-Fri.▪ Collection Point at Broad Street, Lagos. Free
Delivery:
 Ikoyi & Victoria Island (Named Day delivery*)

,

Mon-Fri. From ₦2000

°
 All Other Areas in Lagos (2-3 working days), Mon-Fri. From ₦3000

°
 Other States & International (3-6 working days), Mon-Fri. From ₦6000°
Available Saturday
Delivery
:
Saturday ▪ 
Ikoyi &
 Victoria Island
 (order by Friday 11am) 
₦4500°
 _____ 
*Named Day or Next-Day is not Same-Day delivery. Order by 11am for Next-Day delivery. Orders placed after 11am or on Weekends and Public Holidays, will be processed the next working day and dispatched according to delivery method chosen. °Subject to location. 
For more details, please read our FAQs.
inches - cm
4x4 - 10.16x10.16
5x5 - 12.7x12.7
5x7 - 12.7x17.8
6x8 - 15.24x20.32
8x8 - 20.32x20.32
6x12 - 15.24x30.48
8x10 - 20.32x25.4
12x16 - 30.48x40.64
all sizes on NNEYAH Cards & Gifts are displayed in inches.
*Image above is an approximation and not to scale.
... 
Still unsure about size? Use an online-ruler* here
*Disclaimer: this is a third-party link, Nneyah Cards & Gifts is not responsible for your use of this link.